The art of building and maintaining a successful career, no matter the field, requires skills, determination and the ability to stay on top of all things at all times. Because any successful career will span many years, the fact that a changing business landscape will continuously play a role in your strategies and decisions is a given and this necessarily requires all successful people in business to stay ahead of the curve at all times.
You're not alone in your quest for business success and keeping up with the variables that affect your business is as simple as staying involved in the industry; enter these five career building conferences:
No matter what area of business you work in, the growing force of the internet is almost certainly a big factor in your success. Whether you've yet to get your business online or you depend solely on internet traffic for your income, the Search Engine Strategies conference to be held this summer in San Francisco is an excellent place to get up-to-date on the latest trends, practices and inspiring success stories to be shared by those who understand how to make the most out of search engine optimization! Besides offering an atmosphere that encourages close networking with your peers and potential customers, SES will help you to tackle the promise held by search engine traffic head on, taking your business to the next level once put into practice.
When & Where: California's city by the bay, San Francisco, is the home of this year's SES conference from August 13-17, 2012. Feel free to bookmark your hotel using SanFranciscoHotels.net.
Promising to teach business-minded entrepreneurs more in three days than most career-oriented professionals learn in six months, the Lean Startup Machine conference combines workshops, lectures and discussion panels to give business professionals of all types the tools they need to take their unique ideas to the next level. Whether you've got an idea for a personal launch or you're ready to present your product idea to your board of directors, this event promises to help you to better realize your potential through planning and innovation, helping your next big idea to be one that catches on!
When & Where: Need an excuse to visit beautiful Santiago, Chile? The Lean Startup Machine event takes place from July 20-22, 2012.

No matter what area of business you put your hand to, a deeper understanding of the web, how it works and what drives it can only increase your value and abilities as a person in business and no event offers a better crash course on web design and development than An Event Apart, to be held from July 9-11, 2012 in Austin, Texas. A two day conference featuring speakers and presenters will be followed by an intensive workshop on the third day in an effort to see all attendees leave with a better idea of what the web can do for them and how exactly they can take advantage of it!
When & Where: An Event Apart will take place in sunny Austin, Texas from July 9-11, 2012.

This London, United Kingdom-based career building conference focuses on the travel industry, offering insight into the potential income to be found for everyone from airline CEOs to startup travel agents. Free to attend and presenting a unique opportunity for established travel professionals and new-to-the-game agents alike, the Business Travel Show promises a look at a wide array of products and services while ensuring some of the best networking opportunities in the industry!
When & Where: London, England is the home of the 2012 Business Travel Show, to be held from February 5-6, 2013.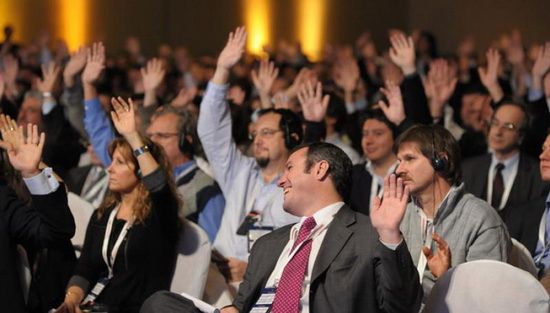 Coming this October to New York City is the world-renowned World Business Forum conference, a bringing together of business leaders of all shapes and sizes in order to discuss how to make better businesses by being better people, all in an effort to shape a better world. The focus here is on discussion and debate, allowing creative and out-of-the-box ideas to form and take shape right before your eyes as people from all different walks of professional life come together to offer their insight on modern challenges, allowing all to leave with a renewed sense of what it is to be a smart, responsible, career-focused person in our complicated modern business landscape.
When & Where: The World Business Forum 2012 conference is set for October 2-3, 2012 in New York City. Arrange your lodging using this list of hotels in NYC.