The rise of the smartphone has only meant one thing; the rise of the smartphone app. Now you can pretty much get anything you want on your phone and, what's more, you can get it on the move. Hunting for a new job has never been more accessible, so we take you through 10 of the best smartphone apps to help your job hunt.
C-V Library
This free app allows the user not only to search over 50,000 live job vacancies, but also apply directly via the app itself. Users can narrow their search by looking at specific industry vacancies and they can save jobs as well as email them to themselves or a friend to save for later application. New vacancies are added all the time and you can edit your cover letter on the app itself and tailor each application.
Job Compass
If you want to search jobs within your region then Job Compass is an extremely useful app. Free to download it uses the iPhone GPS locator to find your location and then searches for jobs within a radius which you can set yourself. The app can then give you additional information about the jobs which you are interested in and also the ability to apply from your iPhone itself.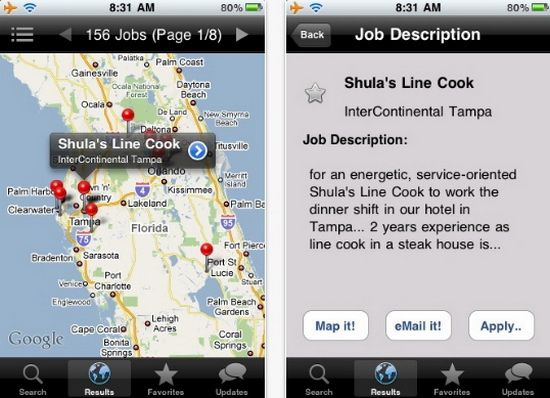 Career Bliss
Career Bliss is an app that not only helps the user to search job vacancies, but is there to ensure happiness in the workplace. It is an online career community with over 3 million vacancies and allows access to independent company reviews and salary expectation to ensure that you know the most about the company that you are applying to.
BusyBee
BusyBee is an app aimed at freelancers, and features companies who want to out-source temporary jobs or one-off specialist roles. You can search roles via specific locations or narrow the search to your specific skill set. It is a great app for those job seekers who want a more flexible approach.
Jobs and Career Test
If you are unsure which jobs you should be applying for, and indeed which jobs you are suited to, then this free app is for you. Through a series of questions this app will help you find out your personality type and tell you which workplace you would be suited in and what jobs you should look out for.
Linked In
Linked In is a professional social networking site and this app makes your Linked In profile accessible on the move. Your professional profile can be used to find other like professionals and career opportunities. With over 161 million worldwide users you can share content and connect with people from all industries. The app will also keep you up to date with all the latest industry news.
Monster Jobs
Monster Jobs is already a popular jobs website and the app allows you to access your account from your iPhone. You can search and apply for jobs as well as having jobs that fit your criteria emailed to you. As well as being able to edit your pofile it connects to other social media sites such as Foursquare, allowing you to search for jobs near the locations that you visit frequently.
Business Card Reader
Face to face networking is often a great way to meet new business contacts and find new job opportunities, and now exchanging information by business card, has never been easier. As opposed to the conventional business card which is often impractical and may be misplaced, the business card reader available on your smartphone can scan in the information on the card and store it to your phone so the contact will never be lost.
Good Job
Being organised will help you stay ahead in the job market. This app allows you to track and save all to do tasks as well as interviews and job contacts. Having all this information in one place makes it easier prioritise to and work out when you have interviews booked or CVs to send off to. It is fully customisable and allows you to assign "priority statues" to each task.
Job Finder
Job Finder allows you to search jobs via location and type but also taps in to other jobs sources such as Monster Jobs and Indeed.com making the jobs available a very comprehensive list of the jobs available. You can also contact the employer directly from the app itself and save jobs you wish to apply for at a later stage.
Jonny D loves collecting apps, gadgets and anything else tech related that he can get his hands on! He currently works for Ladbrokes.